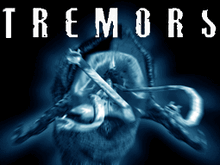 Tremors is a cancelled video game that was based on the Tremors franchise. The game was announced in August 2002 by Rock Solid Studios, who had been working on it since April/May 2002.
The game was going to be released for the Xbox, Nintendo GameCube, PlayStation 2 and PC. Tremors was scheduled for release during the Fall of 2003. However, the game was quietly canceled in the Summer of that year.
Plot/Goal
It was announced that the game, while containing references to the films and the TV series, would have an independent storyline taking place in the desert community of Golden Rock.
Why It Was Cancelled
The cancellation reasons are unknown, but it is most likely because the TV series got low ratings, and they didn't want to get involved.