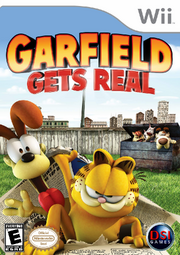 Garfield Gets Real is a video game developed by Gravity-i and published by Destination Software in North America, Funbox Media in Australia on July 21, 2009 an Zoo Digital Publishing in Europe on August 28, 2009 for Nintendo DS.
A Wii port was also planned but was cancelled.
Why It Was Cancelled
The DS version received negative reviews, receiving 39/100 score on Metacritic.
The game was really, really bad. Broken even.
It sold really poorly, and likely sat on the shelves for a very long time until they were put on clearance, some of which even getting "Also Playable on 3DS" stickers due to how long they've been on a store shelf for.
By that point, it would be way too late to release a game based off the movie of the same name.
DSI lost the licenses to Garfield games after the DS version was released.
Results
This port was cancelled.
The Wii didn't get any Garfield game until The Garfield Show: Threat of the Space Lasagna in 2010, which was the only Garfield game to ever release on the Wii, and the second to last non-mobile Garfield game, the final game as of now being Garfield Kart in 2013 (2015 outside mobile platforms) and its 2019 remaster for modern consoles.