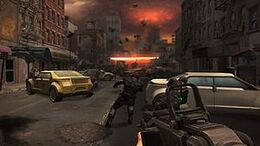 Doom 4 was a first-person shooter game developed by id Software, intended to be released for PlayStation 3, Xbox 360 & PC in early 2010s.
Why It Got Cancelled
id Software was busy with Rage, another FPS, resulting it to be in development hell.
It received backlash from fans, many comparing it to the Call of Duty franchise.
It lacked the spirit of previous Doom games.
Highlights
The concept was interesting.
It had top-notch graphics.
Result
It was remade as a reboot of the series, simply named Doom.