Jurassic World: Dominion Dominates Fandom Wikis - The Loop
Play Sound
Blur 2 is a canceled racing game project that was in the works of Bizarre Creations, a now-defunct subsidiary of Activision.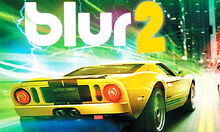 The racing game's production began shortly after Blur had been released, but was quickly halted after Bizarre Creations was shuttered by Activision.
On June 1st of 2019, a prototype of Blur 2 was discovered on an Xbox 360 development console from an auction, dated November 9th of 2010.
It's possible that this would come out in 2012.
Goal/Plot
The game starts with the player driving through Los Angeles in his white Lamborghini LP-640 SV. He gets home and the player meets his girlfriend Shannon. Player then is called by Rhymer, the boss of the Gearshifts who lives near them. It is also told that the Player wants to leave the street racing gang because he wants a private life with Shannon.
After completing a few races, Rhymer tells the Player that someone wants to kill him and Shannon. He suggests the Player to leave Los Angeles after completing one last job for him. After he has completed the job, the Player drives home and picks up Shannon. He tells her about the plan for leaving Los Angeles. Shannon gets angry because she wants money and the clubs and she doesn't want to give up on that. So they have an argument. Finally, Shannon gets out of the car. Raul calls "Shannon, wait!", but in this moment, the LP-640 SV blows up.
WIP
Gameplay
Blur 2 would've featured an all-new physics engine, new cars, new tracks, an overhaul and revamp of the abilities, and a new graphics engine
As for the physics, both the developer build and the pre-release demo demonstrated the ability to drive on walls and drive upside down. Traffic vehicles driving on the marked course were also seen on certain tracks.
The power-ups were also to be different in Blur 2. The Shunt power-up from Blur got an overhaul from a damaging red ball in the first Blur, to a big energy pulse. The Nitro power-up also received an overhaul, it lets off a trail of visual distortion behind one's vehicle and functions similarly as it did in the previous game, giving the vehicle more speed for a short amount of time. Other overhauls of other power-ups, such as Shock, Mine, Barge, and Bolt are unknown or stayed the same...
As for the cars, the pre-release demo prominently featured an orange Ultima GTR as well as the Audi R8 5.2 TDI Quattro from the first game driving on a snowy mount and around Dubai respectively. Various other car files were also found in the developer build, though many of the new vehicles have a darkened Ford Shelby GT500 as a placeholder. However, vehicles from the first game, as well as the Ultima GTR, the Light Car Company Rocket, and an extremely low-detailed RUF Rt 12 S are available to drive in the developer build.
There would be more customization. Rather than choosing your paint job, you can put body kits, spoilers, seats, and subwoofers in the trunk. You can also choose from a lot of real-world and fictional performance brands.
There would be more world locations. Instead of unlocking cars as you level up, you now unlock them with a currency called "Blur Coins". This can also be used to purchase upgrades and body kits.
Soundtracks
This is the music that would be included in the game Blur 2. These songs would play during racing, the same way they would play in the game Need for Speed: Hot Pursuit 2010.
Hip Hop
Ric-A-Che - Lil'Bro
Bubba Sparxxx - Ugly
Chingy - Right Thurr
Kanye West - Runaway
Kanye West - Power
Fort Minor - Remember the Name
DJ Flexx and Jas Funk - Here We Go
Drake - Over
Chief Keef - 3Hunna
Three 6 Mafia - Stay Fly
Ja Rule - Furious
Ludacris - Move B--- Get Out Da Way
50 Cent - P.I.M.P. ft. Snoop Dogg, G-Unit
DMX - X Gon' Give It To Ya
Kendrick Lamar - Money Trees
Lloyd Banks - Hands Up ft. 50 Cent
Nas - Hero ft. Keri Hilson
Tempa T - Next Hype
West Coast Rap
N.W.A. - Straight Outta Compton
Eazy-E - Real Muthap***kkin G's
2Pac - 2 Of Amerikaz Most Wanted (feat. Snoop Dogg)
Bishop Lamont - City Lights
Ice Cube - It Was A Good Day
Westside Connection - Gangsta Nation
Snoop Dogg & Pharrell - Drop It Like It's Hot
Dr. Dre ft. Snoop Dogg - Kush
Ice Cube - I Rep That West
Hard Rock
Gallows - I Dread The Night
Bullet For My Valentine - Disappear
The Bronx - Digital Leash
In Flames - Move Through Me
Saviours - Cavern of Mind
As I Lay Dying - Nothing Left
Ministry - Jesus Built My Hotrod
Nirvana - Breed
Slipknot - Before I Forget
Mindless Self Indulgence - Straight To Video (KMFDM Remix)
Avenged Sevenfold - Nightmare
Rock
Eagles of Death Metal - I Want You So Hard
The Smashing Pumpkins - 1979
The Hives - No Pun Intended
Deftones - Hole in the Earth
Avery Watts - Survive
Queens Of The Stone Age - Go With The Flow
Straight Ahead - The Xploders
Mash Out Posse - Robbin' Hoodz
Blood Red Shoes - I Wish I Was Someone Better
Dogs - Turned To A Different Station
Blur - Song 2
Electronic
The Qemists - Lost Weekend ft. Michael Patton
The Qemists - S.W.A.G
The Prodigy - Shadow
The Crystal Method - Keep Hope Alive (There Is Hope Mix)
The Crystal Method - Smile
Rotersand - DTL
mind.in.a.box - Lost Alone
LCD Soundsystem - Tribulations
The Chemical Brothers - Hey Boy Hey Girl
The Prodigy - Omen
The Prodigy - Voodoo People (Pendulum Remix)
Pendulum - Crush
Kid Cudi - Day 'N' Nite (Crookers Remix)
Eclectic
Matt & Kim - Daylight (Troublemaker Remix)
Dizzee Rascal - Bonkers
Deadmau5 + Wolfgang Gartner - Channel 42
BT vs The Doors - Break on Through (To The Other Side)
LCD Soundsystem - Daft Punk is Playing at My House (Soulwax Shibuya Mix)
Infusion - Better World (Adam Freeland Mix)
The Chemical Brothers - The Big Jump
Junkie XL ft. Lauren Rocket - Cities In Dust
Innerpartysystem - Heart Of Fire
Cirrus - Back On A Mission
Techno
SebastiAn - Ross Ross Ross
G.T.M - Bouncy
Christopher Lawrence - Rush Hour
Paul Van Dyk - Nothing But You
Kinnder - Space Station
Projections - Escaping Sao Paulo
Vehicles
Most of the classes would be simple but would be expanded in Blur 2. Whilst it's unknown how all of these vehicles would handle besides the Audi R8 5.2 TDI Quattro and the Ultima GTR, it's possible that Blur 2 would use a similar car class system that was featured in the first Blur, but would be much more revamped than in the previous game.
There is a vid in YT with all the tracks and then goes down the list of vehicles. However all of them are not seen, so we're going to have to play ball with the cars we see on the video and rank them in accordance
There is also a "vehicle type" thing under the brand model selected. This could signify new features for the cars (or bikes) such as Body Kits, or Police? We may never know.
Remember, the list below is a made-up list. Don't even think it's real. This list includes vanilla cars, some new cars, and new bosses and their cars.
Class D
Shannon's Renault R230 F1 Team R26
Khan's Stallion Ford Mustang
Jackson's BMW 125i Coupe (Drift)
Cole's Honda Civic Type-R
May's Mercedes-Benz A 250 Sport (Tuner)
Arlene's Nissan Pulsar GTI-R
Mini Cooper S
Nissan 350Z
Mercedes SLK 55 AMG
Ford Focus RS
Fiat 500
Alfa Romeo MiTo
Chevrolet Camaro
Land Rover Defender SVX
Dodge Challenger SRT8
Nissan Navara (Off-Road)
Volkswagen Beetle (Rat)
Nissan 350Z NISMO S-tune
BMW Concept 1 Series tii
Chevrolet Camaro (Rat)
Audi S3
Audi S3 (Tuner)
Toyota Supra
AC Schnitzer ACS1 Coupe
Rat Rod
Abarth 500 SS
Renault R230 F1 Team R26
Foose Design Stallion Ford Mustang
Pontiac G8 GXP
Ford Mustang Boss 429
'93 Ford Mustang Foxbody
Honda Civic Type-R
Can-Am Spyder
Vauxhall Corsa Nurburgring Edition
Ford Focus SVT
Toyota Corolla AE86 Trueno
Audi S1
Mini Cooper S
Dodge Dart R/T
Mercedes-Benz A 250 Sport (Tuner)
Ford Focus ST
Nissan Altima Coupe
BMW 125i Coupe (Drift)
Mini Cooper John Cooper Works
Peugeot 206 CC 2.0 16v '01
Peugeot 307 XSI 2.0 16v
Volkswagen New Beetle 1.8T
Nissan Cube '08
Nissan Pulsar GTI-R
Nissan Cima '95 (Smooth)
Class C
Rhymer's Chevrolet Camaro SS
Drayke's Hummer H2 (Off-Road)
Damian's Mercedes-Benz 190E Cosworth
Garrett's Lancia Delta HF Integrale Evo II
Kanata's Renault Clio V6
Riley's Ducati Monster 696
Paolo's Prodrive P2
Shogo's Saturn Sky
Land Rover LRX
Audi TTS Coupe
Nissan 350Z (Drift)
Ford F-150 SVT Raptor R (Off-Road)
Hummer H1 Alpha
Ford F-100 (Rat)
Toyota Supra (Smooth)
Nissan Silvia Spec-R (S15)
Mitsubishi Lancer Evolution IX GSR
Prodrive P2
Mazda RX-7 '02
Nissan NISMO 370Z
KTM X-Bow
Tesla Roadster Sport
Peugeot Flux
Saturn Sky
Lotus 2-Eleven
Audi TT RS (Tuner)
Chrysler 300C SRT-8
Nissan Juke R
Lotus Evora (Drift)
Kawasaki Z750
Plymouth Prowler
Hummer H2 (Rat)
Lamborghini LM003 (Rat)
Ford Bronco (Off-Road)
BMW Z4M
BMW M3 E92 (Tuner)
1970 Dodge Challenger R/T
Nissan 370Z (Tuner)
Audi Q7 (Off-Road)
Dodge Charger SRT-8
Ferrari 599 GTB
Aston Martin DBS
Ferrari F430 Scuderia
Ford Shelby GT500
Citroen Survolt
Maserati Gran Turismo S
MG XPower SV-R
MG TF X-Power 500
MG ZT X-Power 500
Dodge Charger SRT8
Nissan Navara (Rat)
Volkswagen Beetle (Off-Road)
Foose Design '69 Chevrolet Camaro
Mercedes-Benz C63 AMG
Chevrolet Camaro SS
Ducati Monster 696
Bentley Continental Supersports
Chevrolet Camaro Concept
Chevrolet Camaro Convertible Concept
Lamborghini Miura SV
RUF Dakara
Kawasaki ZX6R
Hummer H2 (Off-Road)
Renault Clio V6
BMW M3 E92
Lancia Delta HF Integrale Evo II
Mercedes-Benz 190E Cosworth
Porsche 959
Audi S3 '02
Audi TT '00
Peugeot 406 Coupe 3.0 V6 24v
Renault Clio V6 '00
SAAB 9-3 Viggen Cabrio '03
SAAB 9-5 Police '02
Ford Mustang SVT Cobra '03
Ford Thunderbird '02
Mitsubishi Lancer Evolution VI '00
Mitsubishi Lancer Evolution VII '01
Isuzu VehiCROSS
Class B
Talon's Corvette ZR1
Natalya's BMW Concept 1 Series tii (Race)
Yoshiro's RUF Rt 12 S
Satoru's RUF Rt 12 S
Leone's Light Car Company Rocket
Joel's Dodge Challenger Concept
Ryosuke's BMW M1 Procar
Volkswagen Scirocco 24
Bowler Nemesis
RUF 3400K
Corvette C3 (Rat)
Dodge Challenger SRT-8 (Tuner)
Dodge Viper ACR
Mercedes-Benz CLK
DeTomaso Panthera GT-5
Lamborghini Estoque
BMW Z4 sDrive35is (Smooth)
Audi RS5 (Tuner)
Chevrolet Corvette Z06
Nissan Skyline GT-R (R32)
Ducati 1198
Audi S5 (Race)
Ford F-100 (Off-Road)
BMW M3 E92 (Drift)
Ford GT
Ferrari California
Mercedes-Benz E-Class
BMW X6 M
Light Car Company Rocket
Ford Mustang FR500
Kawasaki ZX-10R
Chevrolet HHR (Race)
Lotus Exige Cup 260
BMW X5 xDrive48i M Sport
BMW M1 Procar
BMW M1 Hommage
Aston Martin V12 Vantage
Lotus Exige S
Ferrari 599XX
RUF RGT
Kawasaki Z1000
'09 Porsche 911 Carrera
Volkswagen Golf W12 650
Peugeot 907
Ferrari F40
Ford Focus RS (Race)
Mercedes-Benz SL65 AMG
Mercedes-Benz ML63 AMG
BMW Concept 1 Series tii (Race)
Chevrolet Corvette ZR1
Corvette Stingray Concept
Dodge Challenger Concept
Lamborghini Gallardo
BMW M6 Coupe
Mercedes-Benz SL 63
Aston Martin DB7
Ferrari F430
Ducati Hypermotard
Bentley GT Speed
Bentley EXP 9 F
Ford Mustang Giugiaro
RUF Rt 12 S
Spyker C8 Aileron
Class A
Harumi's Nissan Skyline GT-R Nismo Z-Tune
Ayumi's Nissan Skyline GT-R Nismo Z-Tune
Carver's Dodge Viper GTSR
Shannon's Opel Astra Extreme
Dane's Ultima GTR
Kazami's Lexus LFA
Pierre's Mercedes-Benz C-Class DTM
Alex's Lamborghini LP670-4 SV
Renault Megane Trophy
Lamborghini LP560-4
Dodge Challenger SRT-8 (Race)
Chevrolet Camaro SS (Drag)
Corvette Stingray Concept (Drift)
Corvette C3 (Drag)
Ford Transit Supervan3
Audi R8 4.2 Quattro
Mercedes-Benz C-Class DTM
Ducati Monster 1100S
DeTomaso Panthera GT-5
Caterham CSR (Rat)
RUF 911 RT12
Ferrari Scuderia 16M
Ford FR-100
Ferrari Enzo Ferrari
Mercedes-Benz CLK-GTR
Ford Mustang GT-R Concept
Vauxhall Monaro VXR (Drift)
Dodge Viper Venom 1000
BMW M3 E46 GTR
1967 Chevy Nova SS
Cadillac Cien Concept
Corvette C3 (Race)
Koenigsegg CCX-R
Ducati 1098
Nissan GT-R (R35) (Race)
Lexus LFA
Nissan Skyline GT-R Nismo Z-Tune
Nissan GT-R (R35)
Bugatti Veyron 16:4
Bugatti 18/3 Chiron
Arash AF10
Pagani Zonda Cinque Roadster
Dodge Viper GTSR
Opel Astra Extreme
McLaren F1
Ultima GTR
Lamborghini LP670-4 SV
Locations
Miami, FL
Paris, France
Rome, Italy
Detroit, MI
Odessa, Ukraine
Barcelona, Spain
Texas International Speedway, TX
Las Vegas, NV
New York, NY
Hong Kong, China
Rio de Janeiro, Brazil
London, UK
Dubai, UAE
San Francisco, CA
Tokyo, Japan
Los Angeles, CA
Why It Was Cancelled
Because of the low sales of Blur due to the game being rushed to compete with Split/Second, (despite it having positive reviews), and the lack of confidence Activision had in Bizarre Creations, they decided to cancel the Blur 2 project as well as shut down the studio - as well as other projects that were in the works of Bizarre Creations.
Results
A few videos that are development videos about the Blur 2 project were shown by Chris Davie on his blog, who is one of the art directors for the first Blur and Blur 2, and this showcases a few new environments, locations, as well as others, showing features the game would have that were by the looks of things still being worked on that would be included in Blur 2. For unknown reasons, Activision then took down the development videos on Chris's blog and by extension shut shut the blog down. After that the videos were uploaded on to YouTube. 
The only real Blur sequel that managed to come out was Blur Overdrive, which is a freemium top-down racing game on mobiles, along with the player driving fictional cars in the game rather than real-life cars. It's no longer available on mobile game stores such as Google Play, which means that Blur Overdrive was also removed from these stores for unknown reasons. Probably Marmalade Play (the developers of Blur Overdrive) had silently shut the game down.
Chris Davie and a few former Bizarre Creations employees found Lucid Games shortly after the closure of Bizarre in 2011, and still no news about Blur 2 being developed, as they began working on games such as Geometry Wars 3, 2K Drive, and Destruction AllStars.
Recently, Microsoft made a whopping $68.7B deal to buy Activision Blizzard, and there are some rumors that Microsoft is looking to revive old Activision franchises. This opportunity may give Activision a chance to develop this game.
Trivia
The game "NASCAR Unleashed" reused Blur 2's Dubai map for its "Unleashed Speedway" course.
Videos