Blur 2 is a canceled racing game project that was in the works of Bizarre Creations, a now-defunct subsidiary of Activision.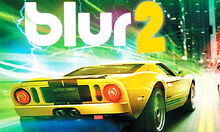 The racing game's production began shortly after Blur had been released, but was quickly halted after Bizarre Creations was shuttered by Activision.
On June 1st of 2019, a prototype of Blur 2 was discovered on an Xbox 360 development console from an auction, dated November 9th of 2010.
It's possible that this would come out on 2012.
Goal/Plot
There's not much known about the story in Blur 2, or what goal it had.
Gameplay
Blur 2 would've feature an all-new physics engine, new cars, new tracks, an overhaul and revamp of the abilities, and a new graphics engine
As for the physics, both the developer build and the pre-release demo demonstrated the ability to drive on walls and drive upside down. Traffic vehicles driving on the marked course were also seen on certain tracks.
The power-ups were also to be different in Blur 2. The Shunt power-up from Blur got an overhaul from a damaging red ball in the first Blur, to a big energy pulse. The Nitro power-up also received an overhaul, it lets off a trail of visual distortion behind one's vehicle and functions similarly as it did in the previous game, giving the vehicle more speed for a short amount of time. Other overhauls of other power-ups, such as Shock, Mine, Barge, and Bolt are unknown or stayed the same...
As for the cars, the pre-release demo prominently featured an orange Ultima GTR as well as the Audi R8 5.2 TDI Quattro from the first game driving on a snowy mount and around Dubai respectively. Various other car files were also found in the developer build, though many of the new vehicles have a darkened Ford Shelby GT500 as a placeholder. However, vehicles from the first game, as well as the Ultima GTR, the Light Car Company Rocket, and an extremely low-detailed RUF Rt 12 S are available to drive in the developer build.
There wouldn't be any sort of global locations anymore, with a free roam experience based on the fictional "Blur County".
Soundtracks
This is the music that would be included in the game Blur 2. These songs would play during racing, the same way they would play in the game Need for Speed: Hot Pursuit 2010.
Hip Hop
Ric-A-Che - Lil'Bro
Bubba Sparxxx - Ugly
Chingy - Right Thurr
Kanye West - Runaway
Kanye West - Power
Fort Minor - Remember the Name
DJ Flexx and Jas Funk - Here We Go
Drake - Over
Chief Keef - 3Hunna
Three 6 Mafia - Stay Fly
Ja Rule - Furious
Ludacris - Move B--- Get Out Da Way
50 Cent - P.I.M.P. ft. Snoop Dogg, G-Unit
DMX - X Gon' Give It To Ya
West Coast Rap
N.W.A. - Straight Outta Compton
Eazy-E - Real Muthap***kkin G's
2Pac - 2 Of Amerikaz Most Wanted (feat. Snoop Dogg)
Ice Cube - It Was A Good Day
Westside Connection - Gangsta Nation
Snoop Dogg - Drop It Like It's Hot
Dr. Dre ft. Snoop Dogg - Kush
Ice Cube - I Rep That West
Hard Rock
Gallows - I Dread The Night
Bullet For My Valentine - Disappear
The Bronx - Digital Leash
In Flames - Move Through Me
Saviours - Cavern of Mind
Ministry - Jesus Built My Hotrod
Nirvana - Breed
Slipknot - Before I Forget
Mindless Self Indulgence - Straight To Video (KMFDM Remix)
Avenged Sevenfold - Nightmare
Blur - Song 2
Rock
Eagles of Death Metal - I Want You So Hard
The Smashing Pumpkins - 1979
The Hives - No Pun Intended
Deftones - Hole in the Earth
Avery Watts - Survive
Queens Of The Stone Age - Go With The Flow
Straight Ahead - The Xploders
Blood Red Shoes - I Wish I Was Someone Better
Dogs - Turned To A Different Station
Electronic
The Qemists - Lost Weekend ft. Michael Patton
The Prodigy - Shadow
The Crystal Method - Keep Hope Alive (There Is Hope Mix)
The Crystal Method - Smile
Rotersand - DTL
mind.in.a.box - Lost Alone
LCD Soundsystem - Tribulations
The Chemical Brothers - Hey Boy Hey Girl
The Prodigy - Omen
The Prodigy - Voodoo People (Pendulum Remix)
Pendulum - Crush
Kid Cudi - Day 'N' Nite (Crookers Remix)
Eclectic
Matt & Kim - Daylight (Troublemaker Remix)
Dizzee Rascal - Bonkers
Deadmau5 + Wolfgang Gartner - Channel 42
BT vs The Doors - Break on Through (To The Other Side)
LCD Soundsystem - Daft Punk is Playing at my House (Soulwax Shibuya Mix)
Infusion - Better World (Adam Freeland Mix)
The Chemical Brothers - The Big Jump
Junkie XL ft. Lauren Rocket - Cities In Dust
Innerpartysystem - Heart Of Fire
Cirrus - Back On A Mission
Techno
SebastiAn - Ross Ross Ross
G.T.M - Bouncy
Christopher Lawrence - Rush Hour
Paul Van Dyk - Nothing But You
Kinnder - Space Station
Projections - Escaping Sao Paulo
Vehicles
Most of the classes would be simple but would be expanded in Blur 2. Whilst it's unknown how all of these vehicles would handle besides the Audi R8 5.2 TDI Quattro and the Ultima GTR, it's possible that Blur 2 would use a similar car class system that was featured in the first Blur, but would be much more revamped than in the previous game.
There is a vid in YT with all the tracks and then goes down the list of vehicles. However all of them are not seen, so we're going to have to play ball with the cars we see on the video and rank them in accordance
There is also a "vehicle type" thing under the brand model selected. This could signify new features for the cars (or bikes) such as Body Kits, or Police? We may never know.
Remember, this is a made-up list. Don't even think it's real. This list includes vanilla cars, the cars from the build, but added more cars and even bikes.
Alfa Romeo
Alfa Romeo 8C Competizione
Alfa Romeo 159ti
Alfa Romeo 2uettottanta
Alfa Romeo Scighera
Alfa Romeo SZ
Arash
Arash AF10
Arash Farbio GTS
Ariel
Ariel Atom V8
Ariel Atom 2
Ariel Atom 300 Supercharged
Aston Martin
Aston Martin V12 Vantage
Aston Martin DBS
Aston Martin DB9
Audi
Audi R8 4.2 FSI Quattro
Audi S3
Audi TTS
Audi Q7 TDI Quattro
Audi Quattro sport (Race)
Audi S5
Audi Nuvolari Quattro
Audi quattro Concept
Audi Avus Quattro
Audi RS2 Avant
Audi Le Mans Quattro
Audi RS 4
Bentley
Bentley Continental Supersport
Bentley Continental GT
Bentley EXP 9 F Concept
Bentley Continental R
Bentley Brooklands
Bentley Hunaudières
BMW
BMW Concept 1 Series Tii
BMW Concept 1 Series Tii (Race)
BMW Vision EffectiveDynamics
BMW M3 E46 GTR
BMW M3 E92 GT2
BMW M3 E92
BMW M3 E92 (Drift)
BMW M3 E92 (Tuner)
BMW M1 Procar
BMW M1 Hommage
BMW i8
BMW Z4
BMW X5 xDrive48i M Sport
BMW X5 Le Mans Concept
BMW X6
BMW M5
BMW Nazca M12
BMW S1000RR
BMW R1200GS
BMW F800S
BMW K1200R
Bowler
Bowler Nemesis
Bowler Wildcat
AC Schnitzer
ACS1 Coupe
AC Schnitzer ACS4 Z4 Sport Coupe
AC Schnitzer ACS3 E46
Alpina
Alpina B3
Alpina B5
Alpina B7
Bugatti
Bugatti Veyron 16:4
Bugatti Veyron Grand Sport Vitesse
Bugatti EB110 Super Sport
Bugatti Chiron 18/3
Bugatti Galibier 16C
Bugatti EB112
Cadillac
Cadillac Ecojet
Cadillac Cien
Cadillac CTS-V
Cadillac XLR
Cadillac Escalade
Cadillac Escalade (Off-Road)
Cadillac SRX
Cadillac Ciel
Cadillac Sixteen
Caparo
Chevrolet
Chevrolet Camaro '69
Chevrolet Camaro '69 (Rat)
Chevrolet Camaro SS
Chevrolet Camaro Concept
Chevrolet Stingray Concept
Chevrolet Camaro SS (Drag)
Chevrolet Corvette C3 (Drag)
Chevrolet Corvette C3 (Race)
Chevrolet Corvette C3 (Rat)
Chevrolet Corvette ZR1
Chevrolet HHR (Race)
Chevrolet Camaro ZL1
Chevrolet Silverado 2500HD
Chevrolet Suburban
Chevrolet Malibu SS
Chevrolet Nomad Concept
Chevrolet Borrego Concept
Chevrolet Cheyenne Concept
Chevrolet CERV III
Chrysler
Chrysler 300 SRT-8
Chrysler 300 SRT-8 (Smooth)
Chrysler 300M
Chrysler Sebring Coupe
Chrysler ME-Four Twelve
Chrysler Aspen (Rat)
Dodge
Dodge Challenger SRT-8
Dodge Challenger SRT-8 (Race)
Dodge Challenger SRT-8 (Tuner)
Dodge Viper ACR
Dodge Viper GTSR
Dodge Viper Venom 1000
Dodge Challenger Concept
Dodge Ram SRT10
Dodge Ram SRT10 Double Cab
Dodge Ram SRT10 (Off-Road)
Dodge Ram SRT10 Double Cab (Race)
Dodge Magnum SRT8 Concept
Dodge Charger SRT8
Dodge Charger SRT8 (Drift)
Dodge Charger SRT8 Super Bee
Dodge Super 8 Hemi Concept
Dodge M80 Concept
Dodge Demon Concept
Dodge Charger R/T
Dodge Charger Daytona
1970 Dodge Challenger R/T
1970 Dodge Challenger R/T (Drag)
Dodge Tomahawk Concept
Dodge Durango R/T
Dodge Copperhead
Dodge Avenger Concept
Dodge Charger III (Race)
Dodge Charger III
Dodge Kahuna Concept
Dodge MAXXcab Concept
Ducati
Ducati Diavel
Ducati Hypermotard 1100 EVO
Ducati Monster 1100 EVO
Ducati Streetfighter S
Ducati 998
Ducati 999R Xerox
Foose Design
Foose Design 69 Camaro
Foose Design Ford Mustang Stallion
Ford
Ford Bronco (Off-Road)
Ford Bronco Concept
Ford F-100 (Off-Road)
Ford F-100 (Rat)
Ford F-150 SVT Raptor (Off-Road)
Ford F-150 SVT Raptor
Ford Focus RS
Ford Focus RS (Race)
Ford Focus RS (Drift)
Ford Explorer America Concept
1993 Ford Mustang GT
Ford Shelby Cobra Concept
Ford FR-100
Ford GT40 MK1 (Rat)
Ford GT
Ford Mustang GT-R Concept
Ford Shelby GT500
Ford Mustang RTR-X
Ford Mustang Giugiaro
Ford Interceptor Concept
Ford Explorer Sport Trac Adrenalin
Ford Shelby GR-1
Ford Sierra RS500 Cosworth
Ford Escort RS Cosworth
Ford GT90
Ford Iosis
Ford Iosis Max
Ford Iosis X
Ford RS200
Ford Focus RS8
Ford F-250 Super Chief Concept
Ford EX Concept
Ferrari
Ferrari Enzo
Ferrari FXX Evoluzione
Ferrari Testarossa
Ferrari 512 TR
Ferrari F40
Ferrari 360 Modena
Ferrari 575GTC
Ferrari 612 Scaglietti
Ferrari F50
Ferrari F50 GT
Ferrari 599 GTB Fiorano
Ferrari F355
Ferrari 328 Conciso
Ferrari 250 GTO
Ferrari LaFerrari
Ferrari 458 Italia
Ferrari GG50
Ferrari Pinin
Fiat
Fiat 500
Fiat Nuova 500
Fiat 500L
Fiat 550 Italia
Fiat Grande Punto
Fiat Marea Weekend
Fiat 131 Abarth Rally
Fiat 124 Gr.4
GMC
GMC Syclone
GMC Typhoon
GMC Vandura (Off-Road)
GMC Yukon Denali
GMC Sierra
GMC Savana (Smooth)
GMC Savana
Gumpert
Gumpert Apollo N
Gumpert Apollo Sport
Jaguar
Jaguar CX-75
Jaguar XJ220
Jaguar XJ220 TWR
Jaguar XK8
Jaguar XK
Jaguar XKR
Jaguar E-Type
Jaguar XJR
Jaguar XJR-15
Jaguar XJR9
2011 Jaguar XJ Supercharged
Jaguar-Palmer JP1
Jaguar R Coupe
Jaguar RD6
Jaguar S-Type
Jaguar X-Type
Jaguar F-Type
Jaguar XFR
Jaguar B99
Jaguar BlackJag
Jeep
Jeep Wrangler COD Modern Warfare 3 Edition
Jeep Wrangler Rubicon
Jeep Wrangler Rubicon (Off-Road)
Jeep Grand Cherokee SRT-8
Jeep Renegade
Jeep Compass
Harley-Davidson
Harley-Davidson 1200 Custom
Harley-Davidson Iron 883
Harley-Davidson 48
Harley-Davidson VR-1000
Honda
Honda Civic Type-R
Honda NSX
Honda CBR1000 RR-4 Fireblade
Honda CBR600RR
Honda NR750
Honda Gold Wing GL1800
Honda ST1300
Honda Fury
Honda CRF450R
Honda Ruckus
Honda PCX 125
Honda MSX 125
Honda FCX Clarity
Honda S2000
Honda City Turbo II
Honda CR-V
Honda CR-V (Rat)
Honda CR-V (Off-Road)
Honda CR-Z
Honda CR-X Del Sol
Honda CR-X SI
Honda Civic SI
Honda City
Honda Ridgeline
Honda Ridgeline (Smooth)
Honda Element
Honda Pilot
Honda Pilot (Rat)
2003 Honda HR-V
2003 Honda HR-V (Off-Road)
2013 Honda HR-V
Honda J-VX
Hummer
Hummer H2 (Off-Road)
Hummer H2 (Rat)
Hummer HX Concept
Hummer H2
Hummer H2 SUT
Hummer H1 Alpha
Hummer H3
Hummer H3T
Infiniti
Infiniti Essence
Infiniti FX45
Infiniti G35 Sport Coupe
Infiniti QX56
Infiniti G37
Infiniti QX60
Isdera
Isdera Commendatore 112i
Isdera Imperator 108i
Joss
Koenigsegg
Koenigsegg CCX-R
Koenigsegg Agera R
Koenigsegg CC8S
Koenigsegg CCGT
KTM
KTM X-Bow
KTM X-Bow R
KTM 1290 Super Duke R
KTM 250 XC
KTM RC 390
Land Rover
2012 Land Rover Defender 90
Land Rover Defender SVX
Land Rover Range Rover Evoque
Land Rover LRX
1978 Land Rover Range Rover 3-door
Land Rover Freelander 2
Land Rover Discovery 3
Land Rover Range Rover Sport HSE
Lancia
Lancia Delta HF Integrale Evo II
Lancia Stratos
Lancia Fulvia
Lancia Ypsilon
Lancia Beta Coupe
Lancia Thema
Lexus
Lexus IS F
Lexus IS 300
Lexus IS 350
Lexus LFA
Lexus LFA (Drift)
Lexus RX 330
Lexus RX 330 (Off-Road)
Lexus LX 570
Lexus LX 570 (Rat)
Lexus LS 400
Lexus LS 400 (Smooth)
Light Car Company
Lotus
Lotus Exige Cup 260
Lotus Evora
Lotus 2-Eleven
Lotus Esprit Concept
Lotus Elise
Lotus Europa S
Lotus Cortina
Lotus Esprit Essex Turbo
Lotus Exige GT3
Lotus Elite Concept
Lotus Elise Concept
Lotus APX Concept
Lotus Elan Concept
Lotus Eterne Concept
Lamborghini
Lamborghini Countach 25th Anniversary
Lamborghini Aventador LP700-4
Lamborghini Diablo SV
Lamborghini Gallardo Balboni
Lamborghini Design 90
Lamborghini Miura Concept
Lamborghini Murcielago LP670-4 SV
Lamborghini Reventón
Lucid
Morgan
Morgan 3-Wheeler
Morgan Aero 8
Marine Turbine Technologies
MTT Y2K Superbike
MTT 420-RR
MTT Street Fighter
McLaren
McLaren F1
McLaren MP4-12C
McLaren P1
Mercedes-Benz
Mercedes-Benz F700
Mercedes-Benz F400 Carving
Mercedes-Benz Bionic
Mercedes-Benz ConceptFASCINATION
Mercedes-Benz C63 AMG Black Series
Mercedes-Benz SLS AMG
Mercedes-Benz AMG GT
Mercedes-Benz ML63 AMG
Mercedes-Benz R63 AMG 4MATIC
Mercedes-Benz SLR McLaren
Mercedes-Benz A45 AMG
MV Agusta
MV Agusta Brutale 910 R
MV Agusta F4 Senna
MV Agusta F4R 312
Nissan
Nissan 350Z (Drift)
Nissan 350Z NISMO Z-tune
Nissan 370Z
Nissan Navara
Nissan Navara (Off-Road)
Nissan Navara (Rat)
Nissan Skyline GT-R NISMO Z-tune
Nissan Skyline GT-R (R34)
Nissan GT-R R35
Nissan GT-R R35 (Race)
Nissan Pulsar GTI-R
Nissan Cube3
Nissan March Nismo S
Nissan Juke R
Nissan Skyline Sedan 350GT-8
Nissan Altima Coupe
Nissan Altima Coupe (Off-Road)
Nissan AP-X
Nissan Mid-4
Nissan IDx Freeflow
Nissan IDx Nismo
Noble
Noble M12
Noble M600
Noble M400
Noble M15
Opel
Opel Astra Extreme
Opel Astra OPC
Opel ECO Speedster
Opel Corsa OPC
Opel Insignia OPC
Opel Monza Concept
Opel Antara GTC
Opel Omega V8.com
Pagani
Pagani Zonda F
Pagani Zonda Cinque
Pagani Zonda Revolucion
Pagani Huayra
Peugeot
Peugeot 206 RC
Peugeot 206 RC (Off-Road)
Peugeot 308 SW
Peugeot 508
Peugeot 405 Pikes Peak
Peugeot 908 HDi FAP
Peugeot 908 RC
Peugeot 907
Peugeot Quasar
Peugeot Oxia
Peugeot Flux
Peugeot EX1
Peugeot Onyx
Peugeot Promethee
Pontiac
Pontiac GTO 2005
Pontiac GTO 1965
Pontiac Firebird Trans Am Yenko
Pontiac Grand Am (Drag)
Pontiac Solstice GXP
Pontiac G8 GXP
Pontiac G6 GXP (Race)
Porsche
Porsche 911 (991) Carrera S
Porsche 911 (997) GT3 RS
Porsche 935 Moby Dick
Porsche Panamera Turbo
Porsche Cayenne Turbo
Porsche 944 Turbo
Porsche 964 Cabriolet
Porsche 918 Spyder Concept Study
Porsche Panamericana
R
Renault
Renault Mégane Trophy
Renault R230 F1 Team R26
Renault Clio III RS
Renault Sport Spider
Renault DeZir
Renault Clio V6
Renault Clio Williams
Renault Espace F1
2010 Renault Espace IV
Renault Avantime
Renault Altica
Renault Zoe
Renault Zoe (Race)
Renault Kwid Concept
Renault Initiale Paris
Rimac
Rimac Concept One
Rimac e-M3
RUF
RUF RK Coupe
RUF RT 12 S
RUF Supercar Concept
RUF Dakara
RUF 3400K
RUF CTR-3
RUF CTR-3 Clubsport
RUF CTR Yellowbird
Saab
Saab 9-3 Carlsson
Saab 9-3 Aero
Saab 9-3 Turbo X (Race)
2012 Saab 9-3 Phoenix
2012 Saab 9-5 Aero
2012 Saab 9-5 Sportcombi
Saab 9-7X
Saab 9-7X (Rat)
Saab 9X
Saab Aero-X
Škoda
Škoda Fabia VRS
Škoda Octavia VRS
Spyker
Spyker C8 Laviolette
Spyker C8 Aileron
Spyker C12 Zagato
Spyker C12 La Turbie
Spyker D12 Peking-to-Paris
Subaru
Subaru Impreza WRX STi
Subaru Levorg STi
Subaru Levorg STi (Off-Road)
Subaru R1
Subaru R2
Subaru Forester XV
Subaru Outback
Subaru Impreza 22B STi
Subaru Legacy (Race)
Subaru Legacy
Suzuki
Suzuki Cappucino
Suzuki Swift Sport
Suzuki GSX-R1000
Suzuki GSX-R600
Suzuki Escudo Pikes Peak
Suzuki Swift GTI
Suzuki Hayabusa
Suzuki XL-7
Suzuki Grand Vitara
Suzuki Wagon R+
Suzuki Solio
Suzuki Concept S2
Toyota
Toyota Supra
Toyota Supra (Smooth)
Toyota FJ Cruiser
Toyota Land Cruiser
Toyota MR2 Supercharged
Toyota Chaser Tourer V
Toyota Chaser Tourer V (Smooth)
Toyota GT-One Road Car
Toyota Aygo Crazy
Toyota Porte
Toyota RAV4
Toyota Tacoma
Toyota Tundra
Toyota Hilux
Toyota GT86
Toyota FT86 Concept
Toyota Estima Aeras
Toyota Alessandro Volta
Vauxhall
Vauxhall Monaro VXR (Drift)
Vauxhall Monaro VXR
Vauxhall Lotus Carlton
Vauxhall VXR8 Bathurst
Vauxhall Corsa Nurburgring Edition
Volkswagen
Volkswagen Beetle (Off-Road)
Volkswagen Beetle (Rat)
Volkswagen New Beetle
Volkswagen Golf W12 650
Volkswagen Golf R MK7
Volkswagen Scirocco 24
Volkswagen W12 Nardo
Volkswagen XL1
Volkswagen Touareg
Volkswagen Race Touareg 3
Volkswagen Polo BlueMotion
Volkswagen W12 Syncro
Volvo
Volvo XC90
Volvo S60 R
Volvo C30 T5
Volvo C30 Polestar
Volvo 850 R
Volvo V70 R
Volvo Concept Coupe
Yamaha
Yamaha OX99-11
Yamaha YZF-R1
Yamaha FZ16
Yamaha YZF-R6
Why It Was Cancelled
Because of the low sales of Blur, (despite it having positive reviews), and the lack of confidence Activision had in Bizarre Creations, they decided to cancel the Blur 2 project as well as shutting down the studio - as well as other projects that were in the works of Bizarre Creations.
Results
A few videos that are development videos about the Blur 2 project were shown by Chris Davie on his blog, who is one of the art directors for the first Blur and Blur 2, and this showcases a few new environments, locations, as well as others, showing features the game would have that were by the looks of things still being worked on that would be included in Blur 2. For unknown reasons, Activision then took down the development videos on Chris's own blog and by extension shutting his blog down. After that the videos were uploaded on to YouTube. 
The only real Blur sequel that managed to come out was Blur Overdrive, which is a freemium top-down racing game on mobiles, along with the player driving fictional cars in the game rather than real-life cars. It's no longer available on mobile game stores such as Google Play, which means that Blur Overdrive was also removed from these stores for unknown reasons. Probably Marmalade Play (the developers of Blur Overdrive) had silently shut the game down.
Trivia
The game "NASCAR Unleashed" reused Blur 2's Dubai map for its "Unleashed Speedway" course.
Videos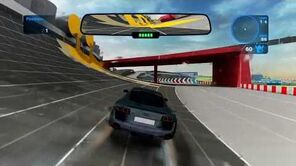 [[Category:Racing games]]